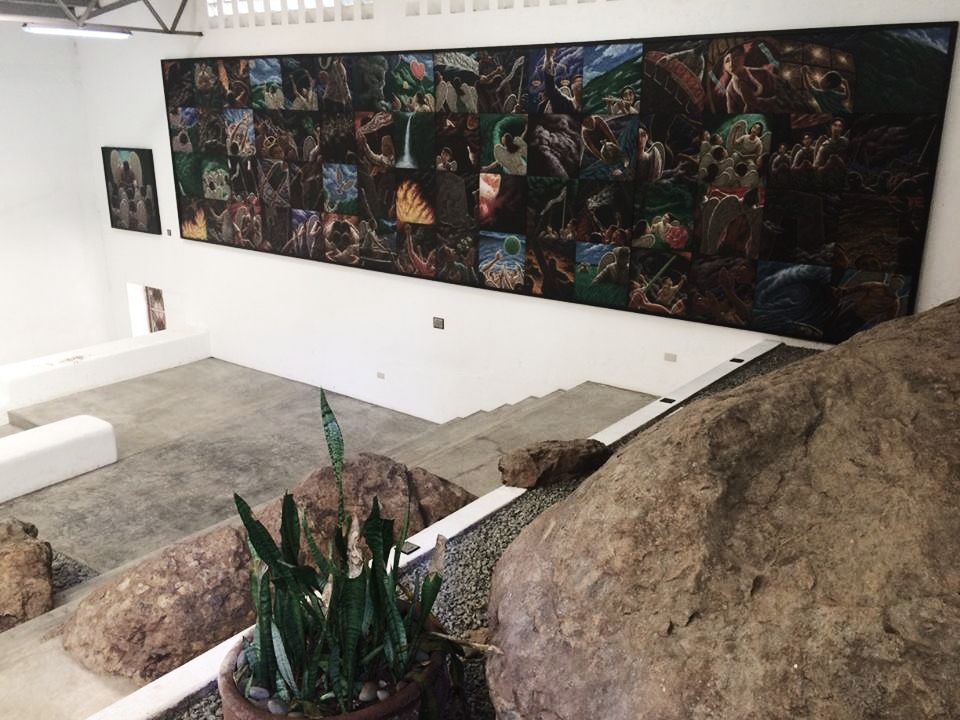 It was an artsy kind of day last Saturday. Me and my colleagues went all the way to Antipolo, Rizal to catch a sight of Pinto Art Museum. I've been hearing a lot of rave reviews about the place in social media, and being the curious girl I am, I wanted to see it live myself. I am definitely not an artsy-craftsy person, but who would not fall in love with this kind of art, ambiance, and architecture? I am well aware, photos can be very deceiving especially with all the photo editing applications and high-end cameras we have today, a place may look different than it really is. So I'm very glad that we were able to push this trip despite our very demanding schedules!
We arrived at around 10:00 AM after an hour of traveling from Cubao. It was sunny and windy both at once when we arrived, just the perfect weather to roam around. We paid 180.00 pesos each, good for an all day tour around the place. They also provided Pinto Art Museum maps for each of us upon entrance. The entrance is very simple and not as gigantic as to other museums, but lo and behold, walk in 'til you see the art wonderland behind the doors!
The place is a mixture of minimalist and contemporary design which is definitely my thing. There were so many art pieces made by Filipino painters, some are intriguing and disturbing which reminded me of the book I recently read, "Confess" by Colleen Hoover. We couldn't resist to shoot a lot of photos because believe me, every corner is picturesque! The place is perfect for prenup shoots, in fact, I saw a handful of amateur photographers inside along with their models. I also spotted few love birds who were enjoying their pleasant walk. The ambiance itself is very relaxing, the work of art and the landscaping made it even more breathtaking. I instantly fell in love to this place.
I always become more eager to save up for a decent camera during times like this. I could have captured a lot of quality photos if it weren't for the just-ok-quality photos that a mobile phone offers. I intentionally did not upload a lot of photos on this blog post because I'm planning to have my second visit any time soon. So I'm sharing some of the group shots we had taken inside the museum instead. Take a look!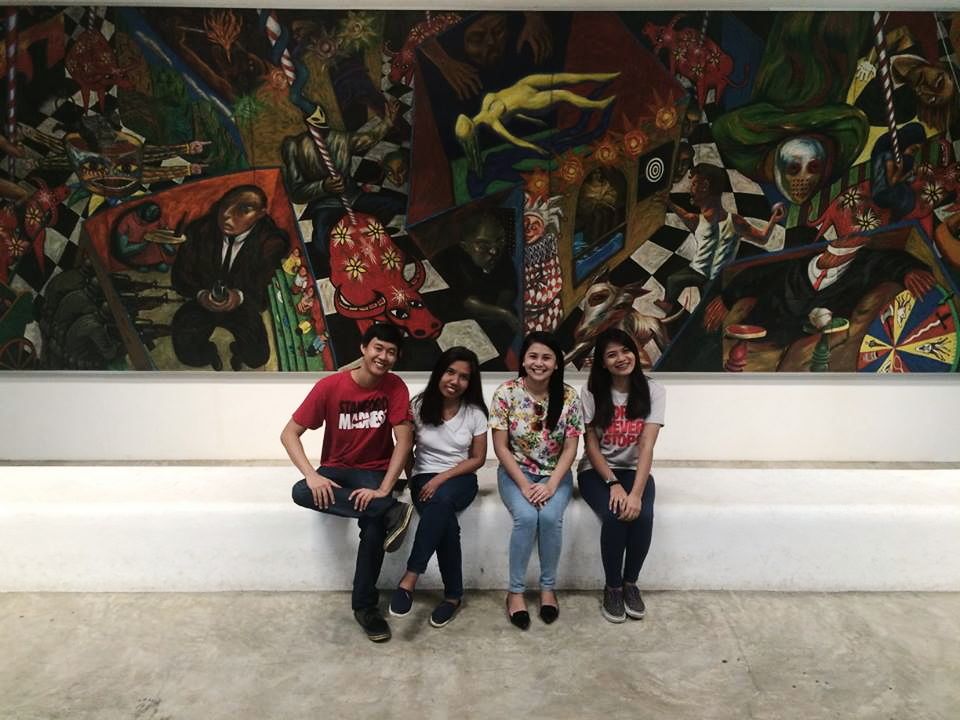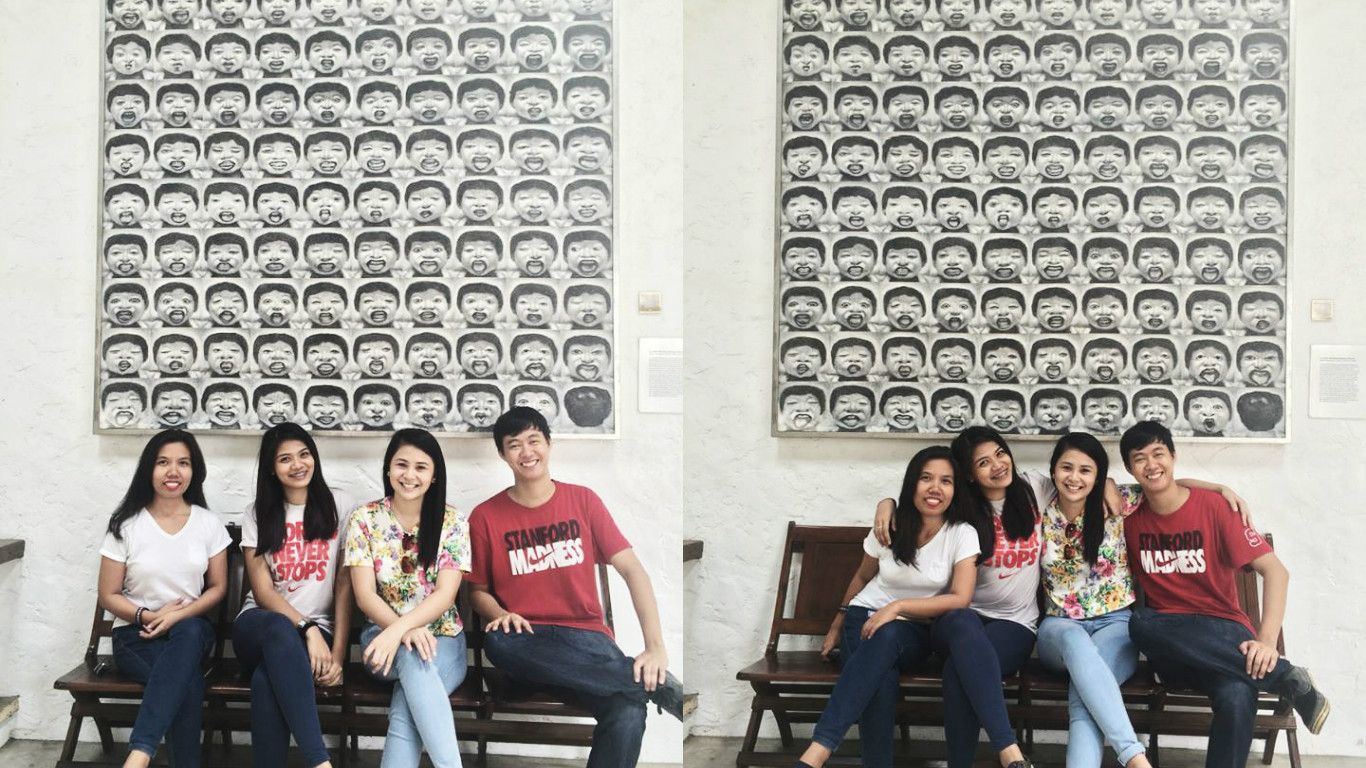 We headed to Antipolo Church and reflected. I also bought my ever favorite cashew nuts and coco jam. We did not stay long there because it was already pass lunch time and we hadn't ate anything yet except for the sandwich we bought just around the place. We then decided to try the foods at Maginhawa St., we took a van going to Cubao then took a bus going to Philcoa. We walked from there going to our next stop. It was not my first time in Maginhawa but with the numerous number of restaurants available in the place, I still have a lot to cross out from my list.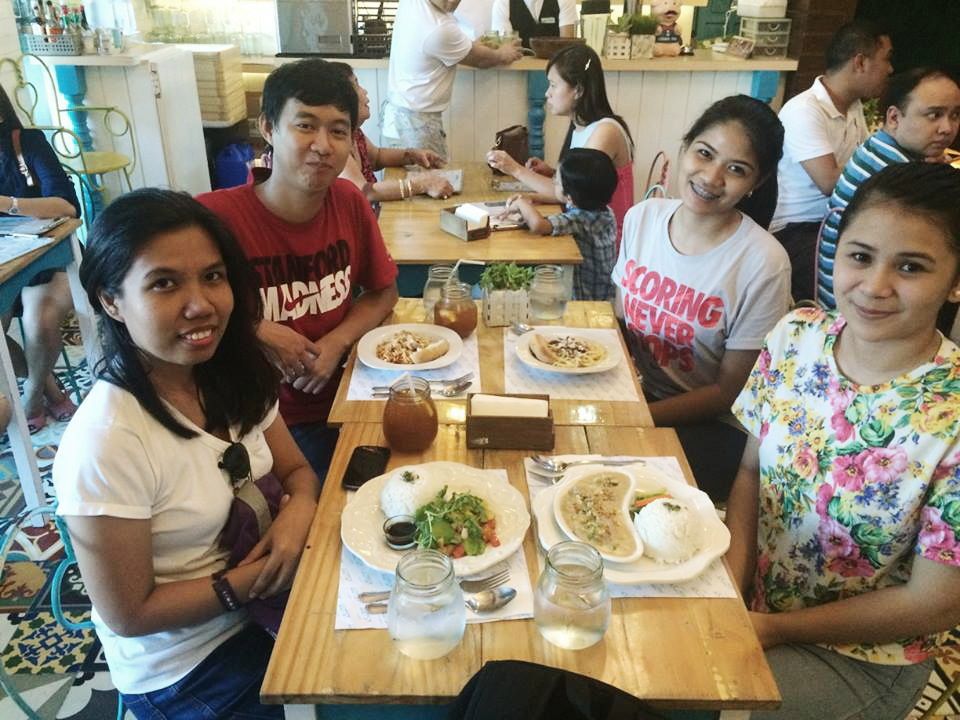 Artsy Cafe caught our attention and since we were already hungry and tired, we decided to go in and give their food a try. I ordered Carbonara, you know how much I love this food. We stayed a little longer after we finished eating to take a rest, then we decided to stroll around and find another restaurant for our dessert cravings, yes, cake! We spotted Dorissimo Pastries and ordered 4 slices of cakes.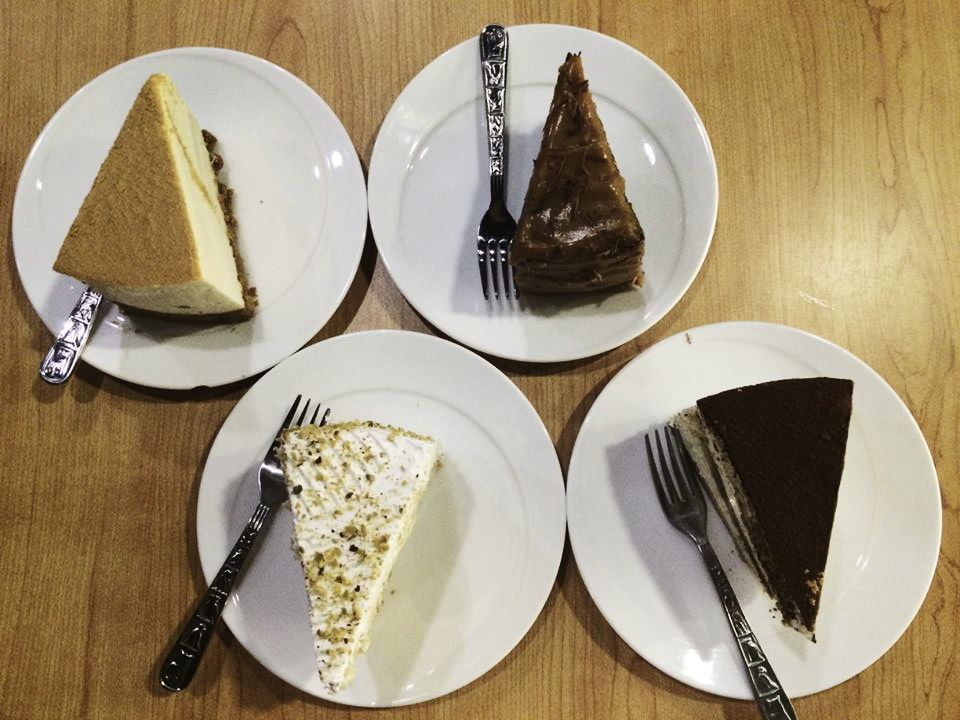 I went home at around 6:30 in the evening, dead tired but fulfilled! I highly recommend Pinto Art Museum to all enthusiast. The entrance fee, 180.00 pesos is affordable enough to the experience! The museum is open from 9:00 am to 6:00 pm, Tuesday to Sunday. Below are other information you may need for your visit.
How to get there by Public Transportation from Cubao:
Take the LRT 2 Cubao Station and take off to Santolan station.
Ride a jeepney or FX going to Antipolo and get off at Ynares Center.
Ride a tricycle and ask the driver to drop you at Grand Heights Subdivision. (You can ask the guard at the entrance of Grand Height Subdivision for the Pinto Art Museum's location but it's just near the entrance gate of the subdivision
Entrance Fee:
PHP180 for regular ticket
PHP150 for senior citizens and PWD with valid IDs
PHP 100 for children and students with proper school IDs